Core is very excited to announce a partnership with Jord International to provide metallurgical testing services for the NovaCellTM flotation technology. NovaCellTM is a breakthrough in flotation equipment technology which provides efficient coarse and fine particle flotation in one machine, and is applicable to critical metals, precious metals, base metals, coal and industrial minerals. The technology has a unique ability to separate and recover a range of particle sizes – even for ore types with low levels of mineral liberation.
The NovaCell™ has a novel configuration, which produces the best hydrodynamic conditions for both fine and coarse particle flotation recovery in one device. Feed material entering the NovaCell™, is distributed across downcomers where particles and tiny bubbles collide in the high-shear zone ideal for fine and ultrafine particle recovery. Material exiting the downcomers enters the fluidised bed, where partially loaded bubbles surround particles in a low-shear environment ideal for coarse particle recovery. Both fine and coarse valuable minerals rise in the NovaCell™ and are collected as two separate streams. A high-grade flotation concentrate is collected at the top of the cell, whilst coarser valuable particles are collected in an inverted cone. The coarse valuables are then removed by a separation device, such as a screen or cyclone for further processing.
Applications include:
Coarse Flotation – separation of valuable minerals at a coarse grind size. Installed at the head of the float circuit, mine operators can treat coarser flotation feed grind sizes, allowing for reduced energy consumption or higher plant throughputs to be targeted. The coarse waste stream produced is suitable for dry disposal, thus improving the overall circuit water recovery.
Coarse Gangue (Waste) Rejection – rejection of a significant portion of waste material early in the process. Treating the cyclone underflow material, mine operators can reject waste ahead of the secondary milling circuit. This enables higher plant throughputs to be targeted without significant changes to the grinding circuit. A coarse waste stream is also produced, improving the overall circuit water recovery.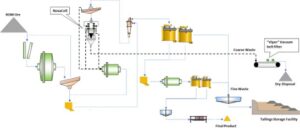 Tailings Scavenging – additional recovery of valuable minerals. Installed as a scavenger on the final plant tailings, mine operators can improve metal production and produce a 'cleaner' tailing with less metal ions for disposal. The coarse waste stream can be treated separately, thus extending the life of tailings storage facilities.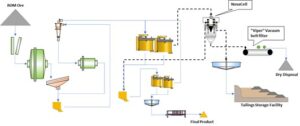 NovaCellTM was developed by Laureate Professor Graeme Jameson and small-scale testing is now available at Core's laboratory in Brisbane. The small-scale unit has been designed to evaluate the technology benefits and provide information for plant design.
More information on the NovaCell™ can be found on the Jord International website:
https://www.jord.com.au/novacell/
NovaCell™ animation video here: https://www.youtube.com/watch?v=cQomwl4lf1M
Contact us today to arrange NovaCell™ testwork on your ore.